Unipolar to bipolar converters are useful when we have to have a unipolar component to do a certain job in a mixed signal design environment.  For example, Digital to Analog Converters (DACs) may have the output voltage range 0 to 2.5 V, or 0 to 5 V, while the design asks for a range of –5 V to +5 V.  To comply with this requirement, we have to design a unipolar to bipolar converter which will be inserted between the DAC output and the following bipolar stage.  It looks like the circuit in Figure 1.  How did I design it?
Figure 1
The unipolar to bipolar converter design starts with writing down the requirements:
If Vin = 0 V, then Vout = –5 V.
If Vin = +5 V, then Vout = +5 V.
It is always a good idea to write down the specifications on your page top.   You will see this behavior in all my articles.  That way you have the design specifications in front of your eyes at all times while you pencil down your calculations.  It also helps you to better "see" what is required, so that you do not stray off the course with some other calculations, while all you need is to reach your goal: a certain output voltage range for a given input range.
This circuit can be solved in two ways:  A solution by reasoning on the design requirements and a math method.  Let's start by reasoning on the design requirements.
First, the output range doubles versus the input range.  The input has a span of 5 V while the output has a span of 10 V.  The immediate conclusion is that the converter gain has to be 2.
Second, if we multiply the input by a gain of 2, the output will swing between 0 and +10 V.  However, our output range has to be –5 V to +5 V, so we will need to introduce an output offset of –5 V.  If our voltage reference is +5 V for a DAC output of 0 to +5 V, it is clear that we need to subtract this voltage from the converter output.  What Op Amp configuration performs subtraction?  A differential amplifier.
Any linear circuit has a transfer function defined by gain and offset as in the following equation.
| | |
| --- | --- |
| | (1) |
Since we know the gain and offset, we can write down the transfer function of the unipolar to bipolar converter.
| | |
| --- | --- |
| | (2) |
The differential amplifier is shown in Figure 2,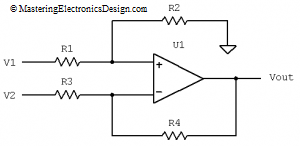 Figure 2
and its transfer function is as follows.
| | |
| --- | --- |
| | (3) |
For the proof of this transfer function read How to Derive the Differential Amplifier Transfer Function.
Let's compare equations (2) and (3).   In equation (3), V1 becomes Vin. Also, we have a voltage +5 V reference in our system.  Since we need to subtract 5 V from the circuit output we will make V2 = +5 V.  If V2 is 5 V, then R4/R3 = 1.  We can choose R3 = R4 = 10 kOhm.
One of the V1 factors in equation (3) is 1+R4/R3 = 2.  Therefore, R2/(R1+R2) has to be one, so R1 = 0 and R2 can be anything, including no resistor.  The final schematic of the unipolar to bipolar converter is the circuit in Figure 1.
>>> <<<
The math solution is a system of two equations with two unknowns. Starting with the design specifications we wrote earlier, the transfer function of the differential amplifier is written for both extremes of the output range:
| | |
| --- | --- |
| | (4) |
Solving is simple. From the first equation, R4/R3 = 1. Then, from the second equation R2/(R1+R2) = 1, the same result as before.