How to Apply Thevenin's Theorem for Solving Circuits with Dependent Sources
Besides its use to simplify and calculate currents in electrical circuits, Thevenin's Theorem is also a great tool that we can use to derive transfer functions. This article will illustrate how to derive the small signal transfer function of the Common-Collector Amplifier with bipolar junction transistors (BJTs).
The circuit is shown in Figure 1. It is also called a repeater, so we expect that the calculated transfer function to be close to unity gain.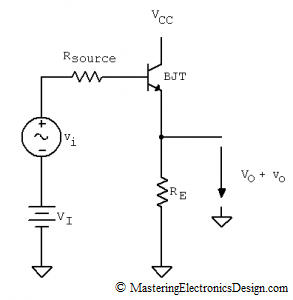 Figure 1
Read moreDerive the Transfer Function of the Common Collector Amplifier with Thevenin's Theorem