My friends advised me that it would be helpful to have on this site the most common operational amplifier configurations and transfer functions or formulas.  So, here they are.  This article is not just a simple collection of circuits and formulas.  It also has links to the transfer function proof for these circuits so I hope it will be very helpful.  Make sure you post a comment and let me know how I can improve this page.  This article will be updated, so do check it often.
Non-inverting Amplifier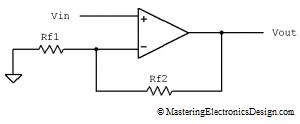 Note:  The proof of this transfer function can be found here:  How to Derive the Non-Inverting Amplifier Transfer Function.
Voltage Follower


Note:  This configuration can be considered a subset of the Non-inverting Amplifier.  When Rf2 is zero and Rf1 is infinity, the Non-inverting Amplifier becomes a voltage follower.  When a resistor has an infinity value, in practice it means it is disconnected.
Read moreUseful Operational Amplifier Formulas and Configurations