In a previous article, MasteringElectronicsDesign.com:How to Derive the RMS Value of A Trapezoidal Waveform – Part 1, I showed how to derive the RMS value of a trapezoidal signal with a flat plateau and different rise/fall time values.  In some applications, the trapezoidal signal plateau is not flat, but rather a ramp, as shown in Figure 1.  A typical example is a DC-DC converter, where the transformer winding current might look like the signal in Figure 1.  Of course, in the DC-DC converter example, the amplitude is current and not voltage.  No matter, the calculations are the same.
This waveform is still considered a trapezoidal waveform. Let's calculate its RMS value.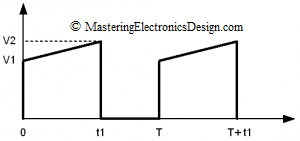 Figure 1
The signal is linear between 0 and t1. Its expression as a function of time can be easily derived by first writing down the slope of the signal. Its slope is (V2-V1)/t1. Also, at origin, the signal value is V1. Therefore, by using simple algebra, the signal function is at follows:
| | |
| --- | --- |
| | (1) |
For simplicity, let's denote the slope with k = (V2-V1)/t1.
A periodic signal RMS definition is
| | |
| --- | --- |
| | (2) |
and here is how to calculate the integral.
| | |
| --- | --- |
| | (3) |
Now let's replace k with dV/t1, where dV is the difference V2-V1.
| | |
| --- | --- |
| | (4) |
Therefore the RMS value of the trapezoidal signal in Figure 1 is
| | |
| --- | --- |
| | (5) |