Most Analog to Digital Converters have a unipolar input that can be a problem when designing bipolar circuits.  Some common ADC input voltage ranges are 0 to 2.5 V, or 0 to 5 V.  However, the analog circuit that drives the ADC can have voltage swings of, –1 V to +1 V, –2 V to +2 V , –5 V to +5 V, and so on.  Bringing the ADC input below ground is a big No-No, because the current from input will flow through the chip substrate creating irreversible changes in the ADC and damage it.  So, how do we connect a bipolar front end circuit with a unipolar ADC?  Enters the bipolar to unipolar converter.  Let's design one.
The converter can be designed with a summing amplifier, as in Figure 1.  How do we calculate the resistors?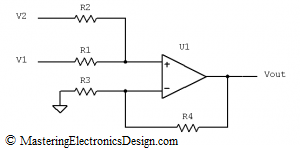 Figure 1
For this, let's take a numeric example.  Let's say we have a –5 V to +5 V input, and we need the converter to output a voltage range of 0 to +5 V for an ADC with the same input range.  If the converter output has to swing in the same direction as the input, which means no phase change, the design requirements are as follows:
If Vin = –5 V, then Vout = 0 V,
If Vin = +5 V, then Vout = +5 V,
where with Vin I noted the converter input voltage and with Vout, the output voltage.
One can use the mathematical approach I described in this article, Solving the Summing Amplifier.  However, in this case things are simple.  We can easily determine the gain and offset of the bipolar to unipolar converter, from the design requirements.  This method is more intuitive than the math approach, adding to the idea that Electronics design is an art form.
Any linear circuit has a gain and an offset.  The general equation is as follows:
| | |
| --- | --- |
| | (1) |
There are two unknowns here, Gain and Voffset.  But, since the output swing is half the input range, the gain has to be 0.5.  Let's note that down: Gain = 0.5.
Now, to determine the circuit offset, we can replace in equation (1) one of the input/output conditions, say Vin = -5 V and Vout = 0 V and determine Voffset.  Even so, let's make this more fun and reason to find out what the offset should be.  If we use a gain of 0.5, the output will swing from –2.5V to +2.5V.  To make the output go from 0 V to +5 V, we need to add an offset of +2.5 V.  Hence, Voffset = +2.5 V.
With the gain and offset known, let's write equation (1) again:
| | |
| --- | --- |
| | (2) |
It should be clear now, why I chose a summing amplifier.  There is a plus sign between Vin and offset.  Now, let's look at the summing amplifier transfer function:
| | |
| --- | --- |
| | (3) |
We can rewrite equation (2) as follows:
| | |
| --- | --- |
| | (4) |
If V1 = Vin and V2 = 5 V, it is clear that we do not need 1 + R4/R3.  This means that R4 is zero (just a short circuit) and R3 is infinity (disconnected).  Also, if R1 = R2, the ratios R1/(R1+R2) and R2/(R1+R2) are equal and equal with 1/2.
We can choose any practical value for R1 and R2, say 10 kOhm.  With this, the bipolar to unipolar converter design is done and it is shown in Figure 2.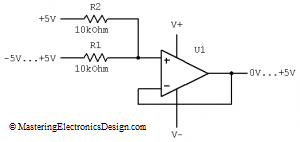 Figure 2