Figure 1
Widely used in Analog Design, the inverting amplifier in Figure 1 has a simple transfer function.

What is the proof of this function?
If we consider an ideal Op Amp, there is no current flow in the inverting input (see Figure 2).  Therefore, I = 0 A and I2 and I1 are equal.
Moreover, being an ideal Op Amp, its gain is high, so the inverting input is at a virtual ground.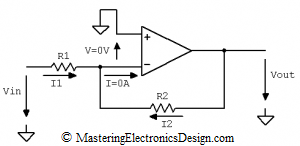 Figure 2
If you are not familiar with the concept of virtual ground, here is an explanation.   Due to the high gain of the ideal Op Amp, on the order of 100,000 (or 100 dB), when the output is at a level of a few volts, the differential input can be around a few microvolts.  Since the non-inverting input is connected to ground, with a potential of zero volts, the inverting input is very close to zero volts, hence the virtual ground.  It is a ground, without the inverting input being galvanically connected to ground.  That is why it is called "virtual". For more, read this article MasteringElectronicsDesign: The Virtual Ground.
Using the previous equation, we can replace I1 and I2 as follows:

Rearranging this equation and considering V = 0V, the transfer function of the inverting amplifier is

Q. E. D.